ANNITA FLOROU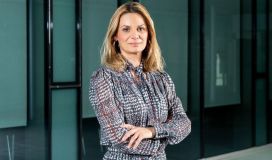 Full Professor
Department of Accounting

Courses a.y. 2018/2019
20126
BILANCIO E COMUNICAZIONE ECONOMICA / FINANCIAL REPORTING AND INTERNATIONAL ACCOUNTING STANDARDS
30427
BILANCIO - MODULO 2 / ACCOUNTING AND FINANCIAL STATEMENT ANALYSIS - MODULE 2
Biographical note
Awarded a BSc Degree in Accounting and Finance from University of Macedonia, Greece; an MBA from University of Manchester, UK; and a Ph.D. from University of Warwick, UK.
Academic CV
Full Professor at the Department of Accounting, Bocconi University. Also, Academic Advisor at the Institute of Chartered Accountants in England and Wales (ICAEW); and Editorial Board Member of Contemporary Accounting Research and Accounting Horizons. Prior to this held academic positions at London Business School, Queen Mary University London and King's College London.
Research areas
Auditor Regulation; Audit Pricing; Audit Quality
Financial Reporting Enforcement
Capital Market Consequences of IFRS Adoption
Corporate Governance Effectiveness; Executive Compensation
Publications
SELECTED PUBLICATIONS
Florou, A., U. Kosi, and P. Pope (2017). Are international accounting standards more credit relevant than domestic standards? Accounting and Business Research, 47 (1), 1-29.
Florou, A. and U. Kosi (2015). Does mandatory IFRS adoption facilitate debt financing? Review of Accounting Studies, 20 (4), 1407-1456.
Florou, A. and P. Pope (2012). Mandatory IFRS adoption and institutional investment decisions, The Accounting Review, 87 (6), 1993-2025.
Florou, A. (2010). The role of taxes in compensation: A case of shareholder expropriation, European Accounting Review, 19 (2), 343-374.
Florou, A. and G. Galarniotis (2007). Benchmarking Greek corporate governance structures and disclosures, Corporate Governance: An International Review, 15 (5), 979-998.
Conyon, M. and A. Florou (2006). The pattern of investment surrounding CEO retirements: UK evidence, British Accounting Review, 38 (1), 299-319.
Florou, A. (2005). Top director shake-up: The link between Chairman and CEO dismissal, Journal of Business Finance and Accounting, 32 (1-2), 97-128.
Conyon, M. and A. Florou (2002). Top executive dismissal, ownership and corporate performance, Accounting and Business Research, 32 (4), 209-226.