DAMIANO CANALE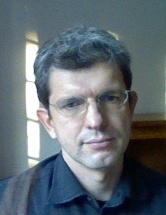 Full Professor
Department of Law

Courses a.y. 2017/2018
40127

THEORY AND PRACTICE OF LEGAL INTERPRETATION
50059
FILOSOFIA DEL DIRITTO [PHILOSOPHY OF LAW]
Biographical note
Born March 6th, 1968. Degree in Political Science from the Università di Padova. Studied in the Faculty of Law, University of Würzburg (Germany) and specialized in Theory of Law at the Goethe-Universität of Frankfurt. Received his PhD in Philosophy of Law from Padua University. He has been a Visiting Scholar at the Max-Plank-Institut für Europäische Rechtsgeschichte (Frankfurt am Main) and Senior Research Scholar at Yale Law School and the University of Oxford.
Academic CV
Full Professor of Philosophy of Law. From 2010 to 2016 he was Head, Department of Legal Studies "A. Sraffa". He is a member of the PhD School in Legal Philosophy at the University of Genova. He has been a researcher in philosophy of law at the Università di Padova.
He is a member of the editorial board for the journals Law and Philosophy, Argumentation in Context, Ars Interpretandi, Analisi e diritto, Discusiones.
Research areas
Legal Interpretation and Argumentation. Philosophy of Action. Methodology of Social Sciences. History of legal and political concepts. BioLaw.
Selected publications
He has published two monographic volumes: Forme del limite nell'interpretazione giudiziale, Padova, CEDAM, 2003; La costituzione delle differenze. Giusnaturalismo e codificazione del diritto civile nella Prussia del '700, Torino, Giappichelli, 2000. He is co-editor with G. Tuzet of the volume The Planning Theory of Law. A Critical Reading, Berlin-New York: Springer, 2013, and he edithed with P. Grossi and H. Hofmann the volume A History of the Philosophy of Law in the Civil Law World, 1600-1900, Berlin-New York, Springer, 2009.
Articles written by him include:"Comparative Reasoning in Legal Adjudication", Canadian Journal of Law and Jurisprudence 28 (1), 2015, 1-23; "Is Las Grounded in Joint Action?", Rechtstheorie 45 (3), 2014, 289-312, "Analogy and Interpretation in Legal Argumentation" (with G. Tuzet), in H. Jales Ribeiro (ed.), Systematic Approches to Argumentation by Analogy, Dordrecht: Springer, 2014, 227-242;"Looking for the Nature of Law: On Shapiro's Challenge", Law & Philosophy 31 (4), 2012, 409-441; "Teorie dell'interpretazione giuridica e teorie del significato", Materiali per una storia della cultura giuridica 42 (1), 2012, 155-178; "La qualificazione giuridica della vita prenatale." In S. Rodotà-P. Zatti (eds.), Trattato di Biodiritto, vol. I, Milano: Giuffrè, 2011, 1-26; "What Is the Reason for This Rule? An Inferential Account of the Ratio Legis" (wirth G. Tuzet), Argumentation 24 (2), 2010, 197-210; "Consequences of Pragmatic Conceptualism. On the Methodology Problem in Jurisprudence", Ratio Juris 22 (2), 2009, 171-186; "Paradossi della consuetudine giuridica." In S. Zorzetto (ed.), La consuetudine giuridica: teoria, storia, ambiti disciplinari, Pisa: ETS, 2008, 109-136; "Legal Interpretation and the Objectivity of Values." In P. Comanducci-R. Guastini (eds.), Analisi e diritto 2007, Torino, Giappichelli, 2008, 239-260; "On the Contrary. Inferential Analysis and Ontological Assumptions of the A Contrario Argument" (with G. Tuzet), Informal Logic 28 (1), 2008, 31-43; "On Legal Inferentialism. Toward a Pragmatics of Semantic Content in Legal Interpretation?" (with G. Tuzet), Ratio Juris 21 (1), 2008, 32-44..
(The list of prof. Canale's publications is available in his personal homepage).