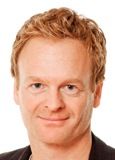 Associate Professor - L 230/05

Courses a.y. 2012/2013
20196
INDUSTRY AND FIRM ANALYSIS - MODULE 2 (MANAGERIAL AND BEHAVIORAL PERSPECTIVES)
20350
COMMUNITY - BASED INNOVATION AND PATTERNS OF PROTECTION
40106
TECHNOLOGY AND INNOVATION MANAGEMENT - ADVANCED

Biographical note
Graduated at the University of Copenhagen, he obtained his PhD at the Copenhagen Business School. He was Visiting Scholar at the Sloan School of Management of the Massachusetts Institute of Technology and at the Scandinavian Consortium for Organizational Research, Stanford University.

Academic CV
Associate Professor at the Department of Management and Technology, Institute of Technology and Innovation Management.

Research areas
Management of Innovation and Technology, Economic Organization, Information Technology, Distributed Innovation.

Selected publications
Jeppesen, L.B. and Lakhani, K.R., (2010) Marginality and Problem Solving Effectiveness in Broadcast Search,
Organization Science
, 21 (5) 1016-1033
Jeppesen, L.B. and Laursen K., (2009) The Role of Lead users in Knowledge Sharing,
Research Policy
, Vol 38 (10), 1582-1589
Lakhani, Karim R., and Lars Bo Jeppesen. Getting Unusual Suspects to Solve R&D Puzzles. Forethought.
Harvard Business Review
85, no. 5 (May 2007).
Jeppesen, L.B. and Frederiksen, L., (2006) Why do users contribute to firm-hosted user communities? The case of computer-controlled music instruments.
Organization Science
. Vol 17 (1), 45-64.
Jeppesen, L.B. (2005) User Toolkits for Innovation: Consumers Support Each Other.
Journal of Product Innovation Management
.(22): 347362.
Jeppesen, L.B. and Molin, M.J., (2003) Consumers as Co-developers: Learning and Innovation Outside the Firm.
Technology Analysis & Strategic Management
15 (3) 363-84.