FRANCESCO PERRINI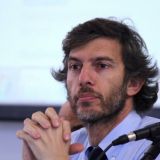 Full Professor
Department of Management and Technology

Courses a.y. 2022/2023
20129
FINANZA STRATEGICA [STRATEGIC FINANCE]
20333
CRISI D'IMPRESA E PROCESSI DI RISTRUTTURAZIONE [CORPORATE DISTRESS AND TURNAROUND MANAGEMENT]
20818
MANAGEMENT AND ECONOMICS FOR SUSTAINABILTY - MODULE 1 (CORPORATE SUSTAINABILITY STRATEGIES AND GOVERNANCE)
20846
ANALISI STRATEGICHE, ESG E VALUTAZIONI FINANZIARIE [STRATEGIC ANALYSES, ESG AND FINANCIAL VALUATION]
30011
SEMINARI DI BUSINESS ETHICS E RESPONSABILITA' SOCIALE [BUSINESS ETHICS AND SOCIAL RESPONSABILITIES SEMINARS]
30060
ECONOMIA AZIENDALE E GESTIONE DELLE IMPRESE / MANAGEMENT
Biographical note
Degree in Business Administration from Università Bocconi. PIM, ESADE, Barcellona. International Teachers Program, NYU Stern School of Management. Visiting scholar, Wharton School of Business, University of Pennsylvania, Philadelphia e Campus Abroad professor all'University of California, Los Angeles (UCLA).
Academic CV
Full Professor of Economics and Business Management in the Department of Management and Technology at Bocconi University, where he teaches Business Economics and Management, Strategic Finance, Strategic Analysis and Financial Valuations, Business Crisis and Restructuring, Business Ethics & CSR; since 2013 he is delegated by the Rector to chair the Sustainability Committee.
At SDA Bocconi School of Management he is Professor of Corporate and Real Estate Finance, scientific director of the Sustainability Lab and co-director of the eSG Lab at CDR - "Claudio Demattè" Corporate & Financial Institutions Research division. In addition to research, he has taught in both master and executive training programs (custom and open) and is actively involved in executive development for a wide variety of companies. He also runs sustainability workshops for top management teams and senior executives and is a frequent speaker at corporate and industry events.
Previously he was Director of CRESV - Research Center on Sustainability and Value, of the M&A Observatory and of the Business Crisis and Recovery Observatory of Bocconi University until 2015 and of the Degree Course in Business Economics and Management (CLEAM); Rector's delegate for CSR development (2002-2004); Head of CSR Unit - "Business Ethics and Social Issue in Management" of the Department of Management and Technology and for a decade held the SIF Chair of Social Entrepreneurship and Philanthropy Management and taught at CEMS Social Entrepreneurship & Impact Investing; Director of MASEM - Master in Sustainability and Energy Management (World Rank #1 since 2015).
He is the author of more than two hundred working papers, books and articles on the topics he deals with, published in major international journals (Academy of Management, Journal of Business Ethics, California Management Review, Corporate Governance: An International Review, Financial Times, European Management Journal, Harvard Deusto Business Review, Corporate Social Responsibility Initiative WP Kennedy School of Government Harvard University, ...) and national journals (Economia & Management, Sinergie, Finance Marketing Production, ...). He is considered one of the leading scholars of sustainability/CSR and among those who have innovated and first studied CSR and SMEs. He has nearly 11,000 citations on Google Scholar.
A certified public accountant and auditor, he has worked in several financial companies, he founded an "Ethical Investment Advisory" company (SRI, ESG Rating and Indexes) in 2000 and then an advisory firm (with experience in M&A, Private Equity, Venture Capital, IPO, Real Estate and Restructuring, also as a special commissioner). He has been an independent member of numerous boards of directors and boards of statutory auditors of manufacturing companies in different sectors, banks, SGRs, funds and, as a volunteer, in social enterprises.
Research areas
Business economics and management, strategic finance, business valuation, strategic management, CSR & SMEs, social entrepreneurship, ESG, corporate governance and sustainability.
Publications
SELECTED PUBLICATIONS
Recent publications on Sustainability and ESG include:
- Perrini F., Pogutz S., Missione Sostenibilità, La sostenibilità al centro dell'impresa, Economia e Management, Special Issue, Egea, Milano, Gennaio-Febbraio, n.1/2021
- Giovannini E., Perrini F., Pogutz S., Casati P., Agenda 2030: l'appuntamento che riguarda tutti, Economia & Management, Egea, Milano, n.1/2021
- Perrini F., Intosca A., I rating ESG: amarli o odiarli?, Economia & Management, Egea, Milano, n.1/2021
- Perrini F., Per un Capitalismo Sostenibile, Economia & Management, e&mPLUS, Interventi & Interviste, Egea, Milano, 25/01/2021
- Perrini F., Pogutz S., De Silvio M., La grande scommessa della sostenibilità, Economia & Management, Egea, Milano, Gennaio-Febbraio, n.1/2020
- Perrini, F., Costanzo, L.A., Karatas-Ozkan, M., Measuring impact and creating change: SROI and a comparison of the main methods for social enterprises, Corporate Governance: The International Journal of Business in Society, 2020
- Perrini F., Non-Financial Reporting. Rendicontazione non finanziaria, molto più di un obbligo, Economia & Management, Egea, Milano, n. 3/2019
- Perrini F., Imprese Sostenibili, n. 12 collana Università Bocconi e Corriere della Sera, 2019
- Perrini F., Sostenibilità, Milano, Pixel Egea, 2018
- Chell, E., Perrini, F., Spence L.J., Harris, J.D., Social Entrepreneurship and Business Ethics: Does Social Equal Ethical?, Journal of Business Etichs, 133/4, 2016