GIANMARIO VERONA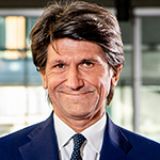 Full Professor
Department of Management and Technology

Courses a.y. 2022/2023
10353

CORPORATE ENTREPRENEURSHIP
20617
TECHNOLOGY AND INNOVATION STRATEGY
40172

TECHNOLOGY AND INNOVATION MANAGEMENT
Biographical note
Born in Milan, Italy. Degree in Business Administration from Bocconi University, where he also obtained a PhD in Business Administration and Management. He has been Visiting Scholar at the Sloan School of Management ath the Massachusetts Institute of Technology (1997-1998) and Visiting Professor at the Tuck School of Business at dartmouth College (Winter terms 2007, 2008, 2009, 2011, 2013)
Academic CV
Gianmario Verona has been Rector of Bocconi University since November 2016. He is a Professor of Management. Between 2012 and 2016 he was TIM (Telecom Italia Mobile) Chair in Market Innovation. Before being appointed Rector, he served Bocconi as Dean of the Faculty (2014-2016), Director of the Master in Business Administration (2012-2014) and Director of the PhD in Business Administration and Management (2009-2012). He has also been Programme Chair of the Competitive Strategy Division of the Strategic Management Society (2008-2010). He is currently Editor of the journal Strategic Organization (SAGE) and sat on the Editorial Boards of Strategic Management Journal, Journal of Management and Journal of Management Studies.
Research areas
Technology and Innovation Management with particular reference to: Dynamic Capabilities; Knowledge Integration; User Innovation and Entrepreneurship.
Publications
SELECTED PUBLICATIONS
Prandelli E., Pasquini M., Verona G. 2016 "In user's shoes: An experimental design on the role of perspective taking in discovering entrepreneurial opportunities" Journal of Business Venturing 31 (3): 287-301.

Di Stefano G., King A., Verona G. 2015 "Sanctioning in the wild: Rational calculus and retributive instincts in gourmet cuisine", The Academy of Management Journal, 58 (3): 906–931.

Grant R., Verona G. 2015 "What's holding back empirical research into organizational capabilities? Remedies for common problems." Strategic Organization 13 (1): 61-74.

Di Stefano G., Peteraf M., Verona G. 2014 "The organizational drivetrain: A road to integration of dynamic capabilities research", forthcoming in Academy of Management Perspective 28 (4): 307-327.

Di Stefano G., King A., Verona G. 2014 "Kitchen Confidential? Norms for the use of transferred knowledge in gourmet cuisine", forthcoming in Strategic Management Journal 35 (11) 1645–1670.

Peteraf M., Di Stefano G., Verona G. 2013 "The elephant in the room of dynamic capabilities: Bringing two diverging conversations together"

Strategic Management Journal

34: 1389–1410 (

First article in the issue

).
Stadler C., Helfat C., Verona G 2013 "The impact of dynamic capabilities on resource access and development" forthcoming in Organization Science 24 (6): 1782–1804.
Di Stefano G., Gambardella A., Verona G. 2012 "Technology push and demand pull perspectives in innovation studies: Current findings and future research directions" in Research Policy 41: 1283-1295.
De Luca, L., Verona G., Vicari S. 2010. "Market Orientation and R&D Effectiveness in High Technology Firms: An Empirical Investigation in the Biotechnology Industry". Journal of Product Innovation Management 27: 299-320 (First article in the issue).
Di Stefano, G., Peteraf, M., Verona G. 2010. "Dynamic Capabilities Deconstructed: A Bibliographic Investigation into the Origins, Developments and Future Directions of the Research Domain", Industrial and Corporate Change, 19 (4): 1-18.
Severi Bruni D., Verona G. 2009. "Dynamic Marketing Capabilities in Science‐based Firms: An Exploratory Investigation in the Pharmaceutical Industry". British Journal of Management 20: 101–117.
Cillo P., Verona G. 2008. "Search Style in Style Searching: Learning Exploration Strategies from Fine Fashion". Long Range planning, 41 (6).
Jawecki G., Fueller J., Verona G. 2008 Innovative consumer behavior in online communities. European Advances in Consumer Research 8: 513-518.
Cillo, P., Verona G., Vicari S. 2007. "The Interlink Between Resources and Capabilities: Towards a Theoretical Frame for the Development of Dynamic Capabilities", International Journal of Learning and Intellectual Capital, 4 (1‐2): 111‐131.
Robertson P., Verona G. 2006. "Post‐Chandlerian Firms: Technological change and firm boundaries", Australian Economic History Review, 46 (1): 70‐94.
Prandelli, E., G. Verona, D. Raccagni 2006. "Web-based Product Innovation", California Management Review, 48 (4), pp. 109-135.
Verona, G, E. Prandelli, M. Sawhney 2006. "Innovation and virtual environments: towards virtual knowledge brokers", Organization Studies, 27(6), pp. 765-788 (First article in the issue 50 citations ISI Web of Knowledge and 154 Google Scholar).
M. Sawhney, G. Verona, E. Prandelli, 2005. "Collaborating to Create: The Internet as a Platform for Customer Engagement in Product Innovation", Journal of Interactive Marketing, 19(4), pp. 3-17 (First article in the issue, Runner-up for best paper of the journal, currently 440 citations Google Scholar).
Sawhney, M., E. Prandelli, G. Verona, 2003. "The Power of Innomediation", MIT Sloan Management Review, Winter, 44 (2), pp. 77-82.
Verona G., Ravasi D. 2003. "Unbundling Dynamic Capabilities: An Exploratory Study on Continuous Product Development", Industrial and Corporate Change, 12 (3): 577‐606 (currently 96 citations ISI Web of Knowledge and 345 Google Scholar).
E. Prandelli, G. Verona, 2002. "A dynamic model of customer loyalty for sustaining competitive advantage on the Web", European Management Journal, 20 (3), pp. 299-309.
Ravasi D., Verona G., 2001. "Organizing the Process of Knowledge Integration. The Benefits of Structural Ambiguity", Scandinavian Journal of Management, 17, 2001.
Verona, G. 1999. "A Resource‐based View of Product Development" in The Academy of Management Review, 24 (1): 132‐142 (currently 159 citations ISI Web of Knowledge and 534 Google Scholar).