PIETRO SIRENA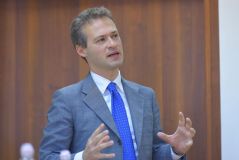 Full Professor
Department of Law

Courses a.y. 2022/2023
12170

DIGITAL FINANCE WEEK
30428
INTRODUCTION TO THE LEGAL SYSTEM - MODULE 1
30431
LAW - MODULE 2 (PRIVATE LAW)
50186
DIRITTO CIVILE - MODULO II (DIRITTO EUROPEO DEI CONTRATTI) [CIVIL LAW - MODULE II (EUROPEAN CONTRACT LAW)]
50187
DIRITTO CIVILE - DIRITTO EUROPEO DEI CONTRATTI [CIVIL LAW - EUROPEAN CONTRACT LAW]
50206
SPORTS LAW
50210
ISTITUZIONI DI DIRITTO PRIVATO - MODULO 1 [PRINCIPLES OF PRIVATE LAW - MODULE 1]
50211
ISTITUZIONI DI DIRITTO PRIVATO - MODULO 2 [PRINCIPLES OF PRIVATE LAW - MODULE 2]
50242
COMPARATIVE PRIVATE LAW
Biographical note
-Born in Canelli (district of Asti), on 7 January 1970.
Academic CV
-Dean of Bocconi Law School (since 2018).
-Faculty Deputy "Law and Regulation" of SDA Bocconi School of Management (dal 2022).
-Treasurer of the European Law Institute (ELI), Wien (since 2021).
-President of the Society of European Contract Law (SECOLA), München-London (since 2022).
-Direttore della Società Italiana per la Ricerca nel Diritto Comparato (SIRD), Torino (since 2014).
-Membre associé of the Académie Internationale de Droit Comparé, Paris (since 2016).
-Presidente del Collegio di Roma dell'Arbitro Bancario Finanziario (ABF) (since 2019).
Research areas
-Unjustified enrichment and restitution law;
-Consumer protection;
-Banking contracts;
-ADR and civil justice.
Publications
SELECTED PUBLICATIONS
-Introduction to Private Law, 3rd ed., Bologna, 2021.
-'Granular Legal Norms in the Financial Services Trade', in Algorithmic Regulation and Personalized Law: A Handbook, ed. by Christoph Busch and Alberto De Franceschi, London, 2021, pp.185-202.
-'Smart Contracts and Automation of Private Relationships' (with Francesco P. Patti), in Constitutional Challenges in the Algorithmic Society, ed. by Hans-W. Micklitz, Oreste Pollicino et alii, Cambridge, 2021, pp.315-330.
-'The Concept of "Harm" in the French and Italian Laws of Civil Liability', in French Civil Liability in Comparative Perspective, ed. by Jean-Sébastien Borghetti and Simon Whittaker, Oxford, 2019, pp. 205-222.
-'Die Rolle wissenschaftlicher Entwürfe im europäischen Privatrecht', in Zeitschrift für Europäisches Privatrecht, 27. Jahrgang, 2018, pp. 838-867.
-'La sussidiarietà dell'azione generale di arricchimento senza causa', in Rivista di diritto civile, 2018, pp. 379-404.
-'The New Design of the French Law of Contract and Obligations: An Italian View', in The Code Napoléon Rewritten. French Contract Law after the 2016 Reforms, ed. by J. Cartwright and Simon Whittaker, London, 2017, pp. 339-360.
-'ADR Systems in the Banking and Financial Markets', in Le traitement des difficultés des établissements bancaires et institutiones financières. Approche croisée, Paris, 2017, pp. 137-150.
-'Diritto privato e diritto pubblico in una società basata sulle libertà individuali', in Rivista di diritto civile, 2017, pp. 101-114.
-'Il Discorso di Portalis e il futuro del diritto privato europeo', in Rivista di diritto civile, 2016, pp. 652-666.
-"Principles versus Rules in the Emerging European Contract Law" (with Yehuda Adar), in Rules and Principles in European Contract Law, ed. by Rutgers and Sirena, Cambridge-Antwerp, 2015, pp. 7-32.