TITO MICHELE BOERI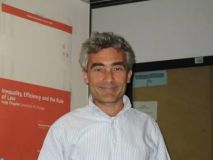 Full Professor
Department of Economics

Courses a.y. 2022/2023
20152
ECONOMIA DEL LAVORO E DELLE RISORSE UMANE [LABOUR AND PERSONNEL ECONOMICS]
20294
LABOUR ECONOMICS
30147
THE ECONOMICS OF IMPERFECT LABOUR MARKETS
Biographical note
Born August 3rd, 1958. Degree in Economics from Università Bocconi. PhD in Economics from New York University Institute of Economics.
Academic CV
Tito Boeri is full professor of economics at Bocconi University, Milan (where he had been also Dean for Research until fall 2014). He was Centennial Professor at the London School of Economics, where he is currently Senior Visiting Professor. From March 2015 to February 2019, he was President of the Italian Social Security administration (Inps). His field of research is labour economics, redistributive policies and political economics. He is Scientific Advisor of the Fondazione RODOLFO DEBENEDETTI (www.frdb.org), where he acted as Scientific Director since its inception in 1998 to 2015. He is research fellow at CEPR, CEP-LSE, IZA, Netspar and Igier-Bocconi. Before becoming president of INPS, he was columnist for La Repubblica and collaborated with some foreign newspapers such as Financial Times and Le Monde. He is the founder of the economic policy watchdog website www.lavoce.info, in the editorial board of www.voxeu.org, and the Scientific Director of the Festival of Economics in Trento. After obtaining his Ph.D. in Economics from New York University, Tito Boeri was senior economist at the Organisation for Economic Co-operation and Development (OECD) from 1987 to 1996. In this position, among other things, he coordinated all the work carried out by the OECD in the field of human resource policies in the central and eastern European economies in transition after 1990. He was also consultant to the International Monetary Fund, the World Bank, The European Commission, the International Labour Office, and the Italian Government.
nto.
Research areas
labour economics, income distribution, political economics of redistributive institutions
Publications
SELECTED PUBLICATIONS
Boeri, T., Lucifora, C., Murphy, K. (2013) (eds.), Executive Remuneration and Employee Performance Related Pay, A Transatlantic Perspective, Oxford University Press. Boeri, T., Bruecker, H., Docquier, F. and Rapoport, H. (eds.), Brain Drain and Brain Gain, Oxford University Press, 2012. Boeri, T., Merlo, A. and Prat, A.(eds.) (2010) The Ruling Class, Oxford University Press, Oxford, translated into Italian by Università Bocconi Editore. Boeri, T. (2010) "Institutional Reforms and Dualism in European Labor Markets", in Ashenfelter, O. and Card, D. (eds.), Handbook of Labor Economics, 2010, Elsevier, pag. 1173-1236. Boeri, T. and van Ours, J. (2008) The Economics of Imperfect Labor Markets, Princeton University Press, 1st edition; 2nd edition in 2013. Boeri, T., Garibaldi, P., Moen, E. (forthcoming) Financial Shocks and Labor: Facts and Theories, IMF Economic Review, forthcoming. Boeri, T. (2012), Setting the Minimum Wage, Labour Economics, Vol. 19(3), pp. 281-290. Boeri, T., Conde-Ruiz, I. e Galasso, V. (2012), "The Political Economy of Flexicurity", Journal of the European Economic Association, vol 10(4), pp. 684-715. Boeri, T. e Bruecker, H. (2011), Short-time Work Benefits Revisited: some Lessons from the Great Recession, Economic Policy, Vol. 26, Nr. 68, pp. 697-765. Boeri, T. e Severgnini, B. (2011), Match Rigging and the Career Concerns of Referees, Labour Economics, Volume 18, Numero 3, pp. 349-359. Boeri, T., Garibaldi, P. e Ribeiro, M. (2011), The Lighthouse Effect and Beyond, the Review of Income and Wealth, series 57, pp. 54-78.