ELISABETTA MERLO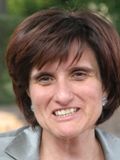 Associate Professor
Department of Social and Political Sciences

Courses a.y. 2022/2023
20125
CHANNEL MARKETING (Evoluzione del commercio, analisi e progettazione) / CHANNEL MARKETING (Trade evolution, analysis and planning)
30067
STORIA ECONOMICA / ECONOMIC HISTORY
Biographical note
Degree in Economic and Social Sciences from Università Bocconi. PhD in Economic and Social History.
Academic CV
Associate professor of Economic History.
Research areas
Ecomomic and Business History.
Publications
SELECTED PUBLICATIONS
Le Corporazioni, Conflitti e Soppressioni. Milano tra Sei e Settecento, Milano: F. Angeli, 1996; Gli esordi dellindustria chimica in Italia: la Lepetit e la Ledoga (1868-1903), Imprese e storia, 20 (July December 1999): 291-317; Imprese e mercati a Milano al volgere del XX secolo, in F. Amatori, A. Colli (eds.) Comunità di imprese. Sistemi locali in Italia tra Ottocento e Novecento, Bologna: il Mulino, 2001, 51-78; Le Origini del Sistema Moda, in C.M.Belfanti, F. Giusberti (eds.), La Moda, Storia d'Italia, Annali 19, Einaudi, Torino, 2003, pp. 667-697; Moda Italiana. Storia di un'Industria, Marsilio Editori, Venezia, 2003; Turning Fashion into Business: The Emergence of Milan as an International Hub (with F.Polese), Business History Review, 80 (Autumn 2006): 415-447; Lepetit (Famiglia), Dizionario Biografico degli Italiani, Istituto della Enciclopedia Italiana, Roma, 2005; Family Business and Luxury Business in Italy (with A.Colli), Entreprises et Histoire, 46 (April 2007): 112-124; Accessorizing Italian Style: Creating a Market for Milan's Fashion Merchandise (with F.Polese) in R.L.Blaszczyk (ed.), Producing Fashion: Commerce, Culture, and Consumers, University of Pennsylvania Press 2007; Apprenticeship and Technical Schools in the Formation of IDs, in G. Becattini, M. Bellandi, L. De Propris (eds.), A Handbook of Industrial Districts, Cheltenham: Edward Elgar Publishing Ltd, 2009; Dress and Fashion in Italy, from 1800 to the present, Berg Encyclopedia of World Dress and Fashion, vol. 8, L. Skov (ed.), West Europe, Oxford: Berg, 2010; Italian Fashion Business: Achievements and Challenges (1970s-2000s), Business History, Vol. 53, No. 3, June 2011, 344–362.