EMANUELE LUCCHINI GUASTALLA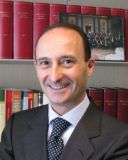 Full Professor
Department of Law

Courses a.y. 2022/2023
30423
DIRITTO - MODULO 1 (PRIVATO) / LAW - MODULE 1 (PRIVATE LAW)
50045
DIRITTO CIVILE - MODULO 1 [CIVIL LAW - MODULE 1]
50113
DIRITTO CIVILE - MODULO 2 (GARANZIE DEL CREDITO) [CIVIL LAW - MODULE 2 (CREDIT GUARANTEES)]
50114
DIRITTO CIVILE - GARANZIE DEL CREDITO [CIVIL LAW - CREDIT GUARANTEES]
50115
DIRITTO CIVILE - MODULO 2 (APPALTO) [CIVIL LAW - MODULE 2 (CONTRACT)]
50116
DIRITTO CIVILE - APPALTO [CIVIL LAW - CONTRACT]
50210
ISTITUZIONI DI DIRITTO PRIVATO - MODULO 1 [PRINCIPLES OF PRIVATE LAW - MODULE 1]
50211
ISTITUZIONI DI DIRITTO PRIVATO - MODULO 2 [PRINCIPLES OF PRIVATE LAW - MODULE 2]
Biographical note
Born in Milan, June 28, 1966. Degree in Law cum laude from the University of Milan.
Academic CV
Full Professor of Private Law, Bocconi University. He was also Director of the Bocconi Master of Science in Law. He was Full Professor of Private Law and Director of the Department of Law at the University of Bergamo (2001-2005), where he also taught as Associate Professor at the Faculty of Economics (1999-2001). He was previously Researcher in Private Law at Bocconi (1994-1999). He teaches Business Law in the MBA program of SDA Bocconi School of Management, and Civil Law (contract obligations) in the School of Specialization for the Legal Professions co-run by Bocconi and the University of Pavia. Member of the editorial board of the journal La Nuova Giurisprudenza Civile Commentata, and of the executive board of Responsabilità civile e previdenza. He was profesor invitado at the Universidad de Buenos Aires (2007), and profesor visitante at the Universidad Nacional de Lomas de Zamora, Buenos Aires.
Research areas
Contract and bond law. Civil aspects of company law. Civil responsibility. Contracts. Inheritance law. Arbitration.
Publications
SELECTED PUBLICATIONS
La compatibilità dei danni punitivi con l'ordine pubblico alla luce della funzione sanzionatoria di alcune disposizioni normative processualcivilistiche, in Resp. civ. prev., 2016, 1474.
Disciplina urbanistica e responsabilità del notaio, in La responsabilità del notaio tra prassi vigente e prassi sanzionatoria, Atti dei Convegni di Vicenza 15 marzo 2014, roma 21 novembre 2014 e Genova 13 marzo 2015 (Supplemento telematico al n. 1/2015), Quaderni della Fondazione del Notariato, Gruppo Sole 24 Ore, E-Library, in http://elibrary.fondazionenotariato.it/indice.asp?pub=47&mn=3.
Riflessioni sulla severability clause, in Nuova giur. civ. comm., 2015, II, 735 ss.
Nuevas fronteras del ilícito intrafamiliar en Italia, in La Ley - Derecho de Familia, n. 8, 1 de oct. de 2015, Editorial La Ley (Spagna), in http://goo.gl/qBkP4I.
A.D.R. y relación banco cliente: El Tribunal Arbitral Bancario-Financiero, in La Mediación – Nuevas Investigaciones y Aportes desde el Derecho Comparado (a cura di) G. Alpa e M.M. Córdoba, Ed. Rubinzal-Culzoni, Buenos Aires, Argentina, 2015, p. 223 ss.
voce Arbitro Bancario finanziario, in Enciclopedia del diritto, Annali, vol. 8, Giuffré, Milano, 2015, p. 35 ss.
Limites a la libertad de prensa, in Responsabilidad civil y seguros, (ed. La Ley, Argentina), 2014, n. 12, risvolti di copertina 2° e 3°.
L'atto di prenotazione. Una proposta de iure condendo, in Riv. dir. civ., 2014, 1272 ss.
Comunione legale tra coniugi e acquisti per usucapione, in Nuova giur. civ. comm., 2014, II, 533 ss.
Appalto, in G. Amadio - F. Macario (a cura di), Diritto civile. Norme, problemi e concetti giuridici, Il Mulino, Bologna, 2014, p.141 ss.
Riflessioni in tema di clausola penale, in Riv. dir. civ., 2014, 91 ss.
La circolazione del modello giuridico italiano in Argentina, in Il modello giuridico – scientifico e legislativo – italiano fuori dell'Europa. Atti del II Congresso Nazionale della SIRD, E.S.I., Napoli, 2013, p. 117 ss.
voce Autonomia privata e diritto di famiglia, in Enciclopedia del diritto, Annali, vol. 6, Giuffré, Milano, 2013, p. 77 ss.
La reciente reforma del régimen de filiación en el Derecho italiano, in Derecho Moderno, Liber amicorum Marcos M. Cordoba, Tomo I, Rubinzal-Culzoni Editores, Buenos Aires, Argentina, 2013, p. 477 ss.
voce Mandato, in Diritto on-line, in Treccani.it L'Enciclopedia Italiana, Istituto della Enciclopedia Italiana Treccani, Roma, 2013, http/dx.medra.org/10.7394/DOL-172.
Ruolo di protocolli e linee guida nella responsabilità medica, in Emanuele Lucchini Guastalla (a cura di), Integrazione non legislativa del contratto, EGEA, Milano, 2013, p. 65 ss.
Integrazione non legislativa del contratto, EGEA, Milano, 2013.
Il contratto e il fatto illecito, Corso di diritto civile, Giuffré, Milano, 2012, pp. XIII-514.