FRANCESCO CORIELLI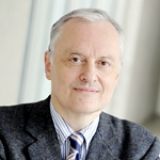 Associate Professor
Department of Finance

Courses a.y. 2022/2023
11927

MACHINE LEARNING IN FINANCE: AN OVERVIEW
20191
FINANCIAL ECONOMETRICS AND EMPIRICAL FINANCE - MODULE 1
40406

ADVANCED ECONOMETRICS 4
Biographical note
Born on the 20th of May, 1959. Degree in Economics and Social Sciences from Università Bocconi.
Academic CV
Associate Professor of Statistics, Department of Finance (formerly Institute of Quantitative Methods). Previously Researcher in Methodological Statistics. Visiting Professor at the London Business School and Imperial College of Arts and Sciences, London.
Research areas
Mathematical Statistics. Econometrics. Mathematical Finance. Currently pursuing the following research strands: empirical analysis of corporate finance; statistical quality of performance metrics in financial management; risk management (issues of modeling risk); robustness of models for the valuation of derivatives.
Publications
SELECTED PUBLICATIONS

S. Gatti, F. Corielli, S. Caselli, V. Buscaino (2012). Project Finance Collateralised Debt Obligations: an Empirical Analysis of Spread Determinants . EUROPEAN FINANCIAL MANAGEMENT, vol. Vol. 18 , p. 950-969, ISSN: 1354-7798, doi: 10.1111/j.1468-036X.2010.00560.x

F. Corielli, S. Gatti, A. Steffanoni (2010). Risk Shifting Through Nonfinancial Contracts. Effects on Loan Spreads and Capital Structure of Project Finance Deals. JOURNAL OF MONEY, CREDIT, AND BANKING, vol. 42, p. 1295-1320, ISSN: 0022-2879

Francesco Corielli, Paolo Foschi, Andrea Pascucci (2010). Parametrix approximation of diffusion transition densities. SIAM JOURNAL ON FINANCIAL MATHEMATICS, vol. 1, p. 833-867, ISSN: 1945-497X

F. CORIELLI, MARCELLINO M. (2006). Factor based index tracking. JOURNAL OF BANKING & FINANCE, vol. 30, p. 2215-2233, ISSN: 0378-4266

F. CORIELLI (2006). Hedging with Energy. MATHEMATICAL FINANCE, vol. 16-3, p. 495-517, ISSN: 0960-1627

CORIELLI F (2006). Model error analysis methods. STATISTICA APPLICATA, vol. 4/2006, p. 641-659, ISSN: 1125-1964

F. CORIELLI, BURASCHI A. (2005). Risk management implications of time inconsistency: model updating and recalibration of no-arbitrage models. JOURNAL OF BANKING & FINANCE, vol. 29, p. 2883-2907, ISSN: 0378-4266

CORIELLI F, MEUCCI A. (2004). "Pitfalls in linear models for style analysis". STATISTICAL METHODS & APPLICATIONS, vol. 13.1, p. 103-127, ISSN: 1618-2510

Francesco Corielli (1997). "LAWS OF LARGE NUMBERS" IN CONTINUUM ECONOMIES. In: Pierpaolo Battigalli, Aldo Montesano. Decisions, Games and Markets. p. 191-207, SPRINGER, ISBN: 9780792398417

Francesco Corielli (1995). A note on the Decidability of de Finetti's Coherence. THEORY AND DECISION, vol. 38, p. 121-129, ISSN: 0040-5833