LUIGI ARTURO BIANCHI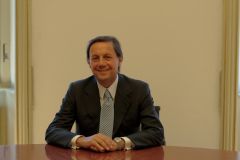 Full Professor
Department of Law

Courses a.y. 2022/2023
30013
DIRITTO COMMERCIALE / COMPANY AND BUSINESS LAW
50100
DIRITTO COMMERCIALE (CORSO PROGREDITO) - SOCIETA' QUOTATE E MERCATI FINANZIARI [ADVANCED COMPANY AND BUSINESS LAW - LISTED COMPANIES AND FINANCIAL MARKETS LAW]
Biographical note
Born June 3rd, 1958. Degree in Law summa cum laude from the Università degli Studi di Milano.
Academic CV
Full Professor of Coporate Law at the Università L. Bocconi (having previously been an Associate Professor), where he is the Head of Corporate Law and advanced Corporate Law courses. He is director of the Corporate Law Course organized by the School of Law of the Università L. Bocconi. He is also a member of the PhD faculty for Corporate Law at the Università L. Bocconi. Former President of CAFRA, Bocconi's Center for Research on Business Administration, Finance and Regulation and he was also Head of the Legal Division of the SDA Bocconi School. He has given lectures and seminars at the leading Italian universities, Notary Schools, Bar Associations and Chartered Accountants Associations and has participated in numerous seminars and conferences both in Italy and abroad on commercial law, banking, bankruptcy, corporate finance issues and arbitration law promoted and organized by public (i.e. Bank of Italy and Consob) and private bodies, the latest being on the 40th anniversary of Consob held at the Università L. Bocconi (2014). He was a visiting scholar in Hamburg (Max Planck Institute), Cologne (Institute for Commercial Law), and Berkeley (School of Law, University of California). He attended an introductory course to the US legal system, organized by the Southwestern Legal Foundation in Dallas, Texas. He is member of the Editorial Board for various Italian publications. He is Co-director of the legal publication AGE-Analisi Giuridica dell'Economia, ed. Il Mulino and is a permanent advisor of the Organismo Italiano di Contabilità (OIC), the Italian setter for accounting standards; He has advised the Ministry of Economic Affairs and the Bank of Italy on corporate governance matters and is a former member of the Milan Chamber of Arbitration. He is currently a member of boards of directors, control committees and supervisory bodies of the foremost Italian listed companies. Furthermore, he is a lawyer and partner at the Milan branch of Gatti Pavesi Bianchi law firm where he mainly advises on m&a, capital market, corporate law and litigation matters.
Research areas
Corporate law, corporate governance, banking and financial intermediation; financial statements and international accounting standards.
Publications
SELECTED PUBLICATIONS
He is the author of numerous publications on commercial law, corporate governance, m&a, financial statements and accounting principles, as well as in relation to corporate finance issues, which have been published in the leading Italian legal publications, and he is the author of the two following monographs: "Informazione societaria e bilancio consolidato di gruppo" (Consolidated Financial Statements and disclosure), Milano, Egea, 1990, and "Il giudizio di congruità del rapporto di cambio nella fusione" (The fairness of the exchange ratio in a merger process), Il Sole 24 Ore, 2001. He has also published a collection of his essays on financial statements, extraordinary transactions and corporate governance titled "Bilanci, operazioni straordinarie e governo societario" Egea, 2013. He is the editor of the following volumes: (with P. Marchetti) "La disciplina delle società quotate nel T.U. della finanza", Milano, 3 vol., Giuffrè-Egea, 1999; "La disciplina giuridica del bilancio di esercizio", Il Sole 24 Ore, 2001; (with M. Notari - F. Ghezzi) "Diritto, mercato ed etica. Tribute to Piergaetano Marchetti", Giuffrè-Egea, 2010; (with P. Marchetti - N. Notari - F. Grezzi) "Commentario alla riforma delle società", 12 vol., Milano, of which he personally edited the following volumes: "Trasformazione - Fusione - Scissione" Giuffré-Egea, Milano, 2006; "Obbligazioni - Bilancio" (with M. Notari), Giuffrè-Egea, Milano, 2006; "Società a responsabilità limitata", Giuffrè-Egea, Milano, 2009. "Scioglimento e liquidazione" (con G. Strampelli), Giuffrè-Egea, Milano, 2016; (with M. Notari e P. Gualtieri), Gli aumenti di capitale delle società quotate, in Analisi giuridica dell'economia, n. 1/2017.
Among his last publications:
Il TUF e il Consiglio di Amministrazione degli emittenti, in Rivista delle Società, 2014.
Operazioni straordinarie, maggiorazione del voto e azioni a voto plurimo, in Rivista delle Società, 2016.
Le linee di tendenza dell'evoluzione dei poteri della Consob (nei confronti degli emittenti), in Regole del mercato e mercato delle regole. Atti del Convegno internazionale di studi, Venezia, 13-14 novembre 2015 (a cura di G. Carcano- C. Mosca e M. Ventoruzzo), Milano, 2016;
Il modello monistico è più efficiente di quello tradizionale? Appunti per una ricerca, in Analisi giuridica dell'economia, 1/2016;
(con M.C. Pezzullo), Il progetto del Fondo Italia, in Profili evolutivi della disciplina sulla gestione collettiva del risparmio, a cura di R. D'Apice, 2016;
Note in materia di garanzie di bilancio e/o di redditività dopo gli IAS/IFRS, in Trasferimenti di partecipazioni azionarie. Linee evolutive dopo il convegno di Portofino del 1989, Giuffrè 2017;
Note sul metodo "rolling" negli aumenti di capitale iperdiluitivi, in Analisi giuridica dell'economia, n. 1/2017, Gli aumenti di capitale delle società quotate, a cura di L.A.Bianchi-P.Gualtieri-M.Notari.