MAURIZIO DALLOCCHIO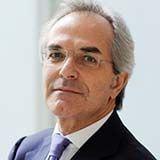 Full Professor
Department of Finance

Courses a.y. 2022/2023
10247

MERGERS AND ACQUISITIONS
10345

FINANCIAL MANAGEMENT
11326

CORPORATE FINANCE
11972

NEW FRONTIERS & LOOKING AHEAD
12196

CORPORATE FINANCE & VALUATION - MODULE 3
20256
MERGERS AND ACQUISITIONS
20267
RIORGANIZZAZIONI FINANZIARIE E DISTRESSED VALUE INVESTING [CORPORATE FINANCIAL TURNAROUND AND DISTRESSED VALUE INVESTING]
30017
FINANZA AZIENDALE / CORPORATE FINANCE
30433
FINANZA - MODULO 1 (FINANZA AZIENDALE) / FINANCE - MODULE 1 (CORPORATE FINANCE)
30434
FINANZA - MODULO 2 (SISTEMA FINANZIARIO) / FINANCE - MODULE 2 (FINANCIAL MARKETS AND INSTITUTIONS)
Biographical note
Born on April 12th 1958. Degree in Business Administration, Bocconi University. ITP, London 1984. ISP New York University, Department of Finance, 1988-89. International Corporate Finance, MCE Bruxelles 1989. Capital Markets Investing, Citicorp, New York 1989.
Academic CV
Professor of Corporate Finance, Bocconi University;
Past Dean and Senior Professor, SDA Bocconi School of Management;
Full Graduate Faculty Member, Rotman School of Management, University of Toronto;
Member of the Scientific Committee/Editorial Board of Research Centers, Conferences and Journals;
Visiting – Lecturer - Scholar: widely with numerous International Institutions (i.e. New York University; London Business School; Stockholm School of Economics; IMD Lausanne);
Chair, Evaluation Committee, Bari University (LUM);
Former member of the National (Italian) Committee for the Appointment of Full and Associate Professors;
Former Member of the Academic Council, China Europe International Business School (CEIBS) Shanghai (PRC);
Past Director, Master in Corporate Finance, SDA Bocconi School of Management;
Past Chair Corporate Finance and Real Estate Department, SDA Bocconi School of Management;
Speaker/Organizer/Chair in more than 350 conferences, congresses, seminars, talks;
23 times in a row New York City Marathon finisher.
Research areas
Mergers & Acquisitions and Corporate Restructuring; Corporate Valuation; Financial Planning and Sustainability; Privatizations; Corporate Governance.
Publications
SELECTED PUBLICATIONS
SELECTED PUBLICATIONS
Maurizio Dallocchio (con Alessandro Cafarelli, e Marco de Vincenzi) Choices of financial structure and value in the Real Estate Sector, in "Investing in the Italian Real Estate. Investment and financing instruments for the Italian Real Estate Industry", a cura di Roberto Fraticelli e Luca Lucaroni, 7^ edizione, Assoimmobiliare,

LibreriaUniversitaria.it, Milano, 2021;

Maurizio Dallocchio (con Alessandro Cafarelli e Marco de Vincenzi) Le scelte di struttura finanziaria e valore nel settore immobiliare, in "Investire nel Real Estate. Strumenti di investimento e di finanziamento nel settore immobiliare italiano", 7^ edizione, Assoimmobiliare,

LibreriaUniversitaria.it, Milano, 2021;

Maurizio Dallocchio (con Gianluigi Lucchini e Chiara Pirrone), Mergers and Acquisitions, 2^ edizione, EGEA, Milano, 2021;

Maurizio Dallocchio (con Antonio Salvi), Finanza d'Azienda, 4^ edizione, EGEA, Milano, 2021;

Maurizio Dallocchio (con Carlo Bellavite and Enrico Parazzini), Valutazione d'azienda nel mondo ESG, EGEA, Milano, 2020;
Maurizio Dallocchio (con Emanuele Teti, Tancredi Currao) "Family Ownership and M&A Payment Method", International Journal of Finance and Economics,

2022;27:1989–2005.

https://doi.org/10.1002/ijfe.2255, Wiley 2022 (prima pubblicazione 9/2020);
Maurizio Dallocchio (con Emanuele Teti, A. Malorgio) "Green Bonds: The Evolution of a Sustainable Financial Instrument on the Cutting Edge" International Review of Environmental and Resource Economics, 2021, vol.15, no. 1-2, pp.95-135;

Maurizio

Dallocchio (con Emanuele Teti, Andrea Aniasi) "The Relationship Between Twitter and Stock Prices. Evidence From the US Technology Industry"; Technological Forecasting & Social Change, 149. hiips://doi.org/10.1016/j.techfore.2019.119747. 2019;
Maurizio Dallocchio (con Emanuele Teti, Tommaso Tamburnotti) "Value vs. Growth Investment Strategies. An Empirical Analysis in the European Context"; European Journal of Economics, Finance and Administrative Sciences, ISSN 1450-2275 Issue 102. 2019;
Maurizio Dallocchio, Le Scelte Finanziarie, Collana "Il Management. Lezioni, strumenti, storie". L'Economia del Corriere della Sera, Università Bocconi Editore, Milano 2018;
Maurizio Dallocchio, Finanza e Business Transformation. In "Business Next", a cura di Andrea Beltratti e Alessia Bezzecchi, EGEA, Milano 2018;
Maurizio Dallocchio (con Stefano Bonini, Philippe Rainbourg, Antonio Salvi) "Do firms hedge translation risks?"; Journal of Financial Management Markets and Institutions. vol. 4, n. 2, 2018;
Maurizio Dallocchio (con Antonio Salvi, Pascal Quiry, Yann LeFur), Corporate Finance. Theory and Practice, John Wiley & Sons, Fifth Edition, London 2018;
Maurizio Dallocchio, (con Gianluigi Lucchini e Marco Scarpelli), Mergers & Acquisitions; Egea, Milano 2015;