SEVERINO SALVEMINI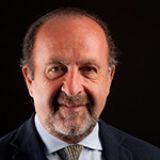 Senior Professor
Department of Management and Technology

Courses a.y. 2022/2023
10356

LEADERSHIP
11112

ARTS DRIVEN BUSINESS
12010

LEADERSHIP & BELLEZZA [LEADERSHIP & BEAUTY]
30208
MANAGEMENT DELLE ISTITUZIONI CULTURALI E ARTISTICHE [ARTS AND CULTURAL MANAGEMENT]
Biographical note
Born October 21st, 1950. Degree in Economics from Università Bocconi. International Teachers Program, London Business School.
Academic CV
Full Professor of Organization Theory. He has been Director of the Undergraduate Degree in Economics and Management of Arts, Culture and Communication (CLEACC). He has been Chairman SDA Bocconi and Chairman International Relations Committee Bocconi.
In 1988 and 1989 he directed the "International Teachers Programme." He has also taught at the Università di Trento (1985-1987) and Bologna (1990-1993). He has taught in Business Schools abroad such as the Stockholm School of Economics, the HEC in Paris, the Ecole Nationale des Ponts at Chaussees in Paris, the Institut d'Administration d'Enterprise in Aix en Provence and the INSEAD of Fontainebleau.
Research areas
Organizational change. In-company training. Organizational structures. Management of service firms. Cultural Management. Cultural Industries.
Publications
SELECTED PUBLICATIONS
La progettazione delle mansioni, Milano: Isedi, 1977; Casi di Organizzazione, Milano: F. Angeli, 1979; Cambiamento e sviluppo organizzativo, Milano: Este, 1980; Gestire persone e idee nel terziario avanzato, Milano: EGEA, 1991; Il cinema italiano: imprenditorialità, efficienza e innovazione, Roma: Anec, 1992; La formula organizzativa e il cambiamento, Milano: Il Sole 24 Ore, 1993; Tra cultura e mercato, Bologna: il Mulino, 1992; Il caso New Holland, Milano: Baldini & Castoldi, 1994; Gestire la crisi partendo dal futuro, Milano: EGEA, 1997; Cultura ed economia: un dialogo indispensabile, Milano: Il Sole 24 Ore, 1999; Risorse umane e strategie territoriali, Milano: EGEA, 2000; Artwork & Network, Milano: EGEA, 2001; Il cinema, impresa possibile, Milano: EGEA, 2002; La città creativa, Egea 2005; E' tutto un altro film, Egea, 2007; La città della creatività", Skira, 2007; "Il manager al buio" (con Gianni Canova), Rizzoli Etas, 2011; "Management delle istituzioni artistiche e culturali" (con Antonella Carù), Egea, 2012; "Introduzione a due voci" (con Paolo Fresu) in Frank Barrett, "Lezioni di leadership dal jazz", Egea, 2013.